Wszystkie opcje software znajdują się w standardzie przy zakupie nowego oscyloskopu z serii DS1000Z-E.
Opcje w zestawie:
| | |
| --- | --- |
| SA-DS1000Z | RS232, SPI, I2C |
| AT-DS1000Z | Advanced Triggering |
| REC-DS1000Z | Record Function |
| MEM-DS1000Z | Memory upgrade to 24 Mpts |
Przegląd produktu
Oscyloskop cyfrowy serii DS1000Z-E został zaprojektowany przez firmę RIGOL w celu sprostania oczekiwaniom przyszłych użytkowników. Jest to zarówno wysokowydajny, jak i ekonomiczny oscyloskop cyfrowy. Znajduje swoje zastosowanie w procesie projektowania projektowania, diagnozowania usterek oraz w edukacji.
Kluczowe cechy
Pasmo 200 MHz, 2 kanały
Częstotliwość próbkowania 1 GSa/s
Pamięć akwizycji 24 Mpts
Częstotliwość odświeżania do 30 000 przebiegów na sekundę
Nagrywanie ramek: do 60 000 ramek
Niski poziom szumów, wzmocnienie od 1 mV/dz do 10 V/dz
Wyzwalanie i dekodowanie magistral szeregowych (RS232,I2C,SPI)
Wielopoziomowa gradacja jasności wyświetlania przebiegu
Pełen komplet interfejsów: LAN (LXI Core Device 2011),USB Host & Device, AUX
Wyświetlacz 7 cali o rozdzielczości WVGA (800x480)
Wymiary (Szerokość × Wysokość × Głębokość): 313,1 mm × 160,8 mm × 122,4 mm
Waga: 3,2 ± 0,2 kg
Prezentacja funkcji
Częstotliwość odświeżania przebiegów 30000 WFMS/s
30000 WFMS/s częstotliwość odświeżania kształtu przebiegu ułatwia wychwycenie
sporadycznych nieprawidłowych sygnałów
Storage Depth 24m
Będąca w standardzie urządzenia pozwala użytkownikowi w pełni uwzględnić ogólną sytuację
i szczegóły kształtu przebiegu oraz utrzymać najwyższą częstotliwość próbkowania przez dłuższy okres czasu,
bez przegapienia jakiejkolwiek zmiany kształtu przebiegu.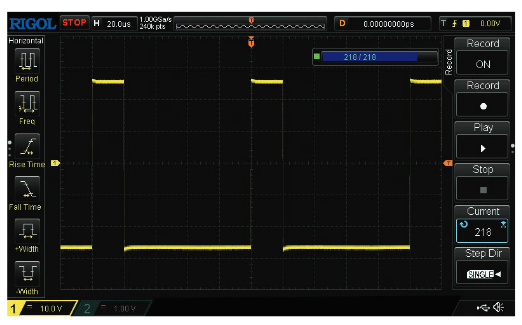 Sprzętowa funkcja nagrywania i odtwarzania kształtu przebiegu
Funkcja pozwala na nagrywanie kształtu przebiegu, nagrywanie zmian jej kształtu,
łatwe odtwarzanie kształtu oraz zlokalizowanie usterki.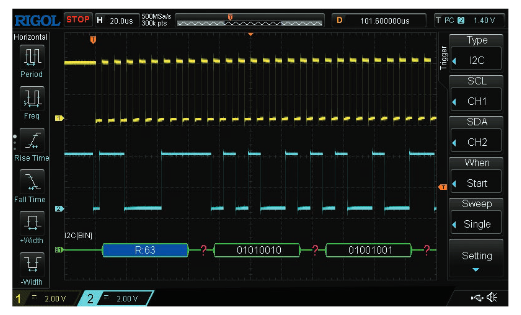 Wyzwalanie i dekodowanie magistrali szeregowej
Funkcje zapewniają opcje wyzwalania i dekodowania magistrali,
obsługują magistrale RS232 / UART, I2C, SPI.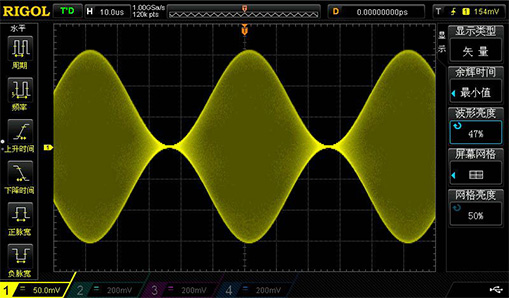 Cyfrowy wyświetlacz fluorescencyjny
Wyświetlacz oscyloskopów z serii MSO1000Z-E daje wiele możliwości
wyświetlania poziomu szarości, co tworzy efekt wyświetlania fluorescencyjnego.
Dzięki temu zmiana kształtu przebiegu może być postrzegana w ułamku milisekundy.